Welcome to The Pixel Project's "30 For 30″ Father's Day Campaign 2013! In honour of Father's Day, we created this campaign:
To acknowledge the vital role Dads play in families, cultures and communities worldwide.
To showcase good men from different walks of life who are fabulous positive non-violent male role models.
Through this campaign, we will be publishing a short interview with a different Dad on each day of the month of June.
This campaign is also part of a programme of initiatives held throughout 2014 in support of the Celebrity Male Role Model Pixel Reveal campaign that is in benefit of the National Coalition Against Domestic Violence and The Pixel Project. Donate at just US$1 per pixel to reveal the mystery Celebrity Male Role Models and help raise US$1 million for the cause while raising awareness about the important role men and boys play in ending violence against women in their communities worldwide. Donations begin at just US$10 and you can donate via the Pixel Reveal website here or the Pixel Reveal Razoo donation page here.
Our eighteenth "30 For 30″ 2014 Dad is Travis Wendel from the USA.
__________________________________________________________________________________________
The Dad Bio
Travis is a 29 year old living in Pennsylvania with his wife, Leslie, and son, Frederick. He has a Bachelor's Degree in Geography from Indiana University of Pennsylvania and works in the Oil and Gas Industry. Travis enjoys the outdoors, good food, and spending time with his friend and family. His son recently turned 3 in May and he and his wife are expecting their second child (a girl!) this August.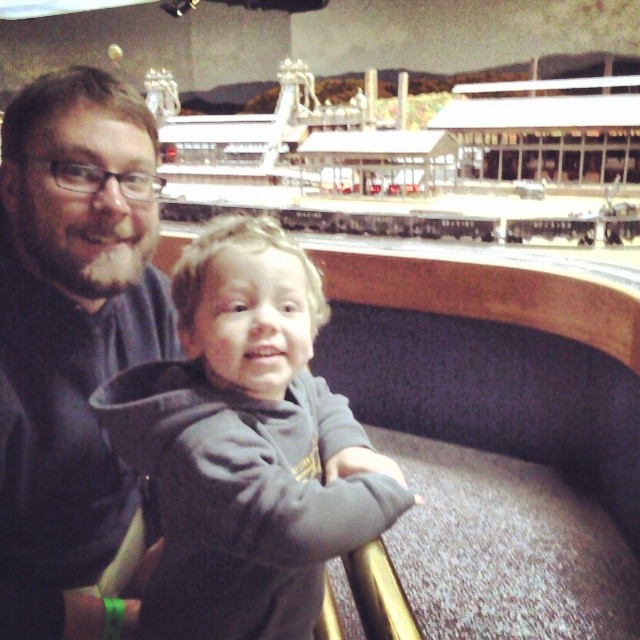 1. What is the best thing about being a dad?
The best thing about being a dad is watching my son grow and learn. The look of excitement and happiness on my child's face when he accomplishes something that he feels proud of, or when we take him to do something that he absolutely loves, cannot be compared. Being a dad is an awesome responsibility. Your children depend on you to take care of them, love them, protect them, and guide them. For me, nothing gives me a greater sense of fulfillment in life than seeing my son be happy.
2. A dad is usually the first male role model in a person's life and fathers do have a significant impact on their sons' attitude towards women and girls. How has your father influenced the way you see and treat women and girls?
I don't recall a specific time or conversation where my dad talked to me about this topic. One thing I do remember about my childhood is that my dad always taught me to be polite and respectful to others, and to always say please and thank you. I continue to conduct myself in that manner around other people and I am trying to teach my son to be polite and respectful as well.
3. Communities and activists worldwide are starting to recognise that violence against women is not a "women's issue" but a human rights issue and that men play a role in stopping the violence. How do you think fathers and other male role models can help get young men and boys to take an interest in and step up to help prevent and stop violence against women?
Young men and boys need learn how to deal with issues and how to treat other people, but they need to learn that through good guidance from their parents or other influential figures throughout their life. I feel that fathers and male role models can get young men and boys more involved by exposing them to the realities and harmful effects of violence toward women, and lead by setting good examples. My wife and I both work full-time jobs so I personally take on more of a responsibility in our home life. I want my son to see his parents sharing responsibilities and view us as being equal, and the importance of that.