Welcome to The Pixel Project's "30 For 30″ Father's Day Campaign 2013! In honour of Father's Day, we created this campaign:
To acknowledge the vital role Dads play in families, cultures and communities worldwide.
To showcase good men from different walks of life who are fabulous positive non-violent male role models.
Through this campaign, we will be publishing a short interview with a different Dad on each day of the month of June.
This campaign is also part of a programme of initiatives held throughout 2014 in support of the Celebrity Male Role Model Pixel Reveal campaign that is in benefit of the National Coalition Against Domestic Violence and The Pixel Project. Donate at just US$1 per pixel to reveal the mystery Celebrity Male Role Models and help raise US$1 million for the cause while raising awareness about the important role men and boys play in ending violence against women in their communities worldwide. Donations begin at just US$10 and you can donate via the Pixel Reveal website here or the Pixel Reveal Razoo donation page here.
Our nineteenth "30 For 30″ 2014 Dad is Adam Miller from the USA.
__________________________________________________________________________________________
The Dad Bio
Adam M. Miller is the Managing Director for Theatre Tuscaloosa, a community theatre based at Shelton State Community College in Tuscaloosa, Alabama. He has an M.F.A. in Theatre Management/Arts Administration and a B.A. in Communications from The University of Alabama (UA). Adam attended public schools in San Antonio, TX, Lewisville, TX, Lake Dallas, TX, and Huntsville, AL. He met his wife, Paige, at UA, and their first son, Kai, was born in Baton Rouge, LA, while their youngest son, Quinn, was born in Alabama. He and his family currently reside in Moundville, AL.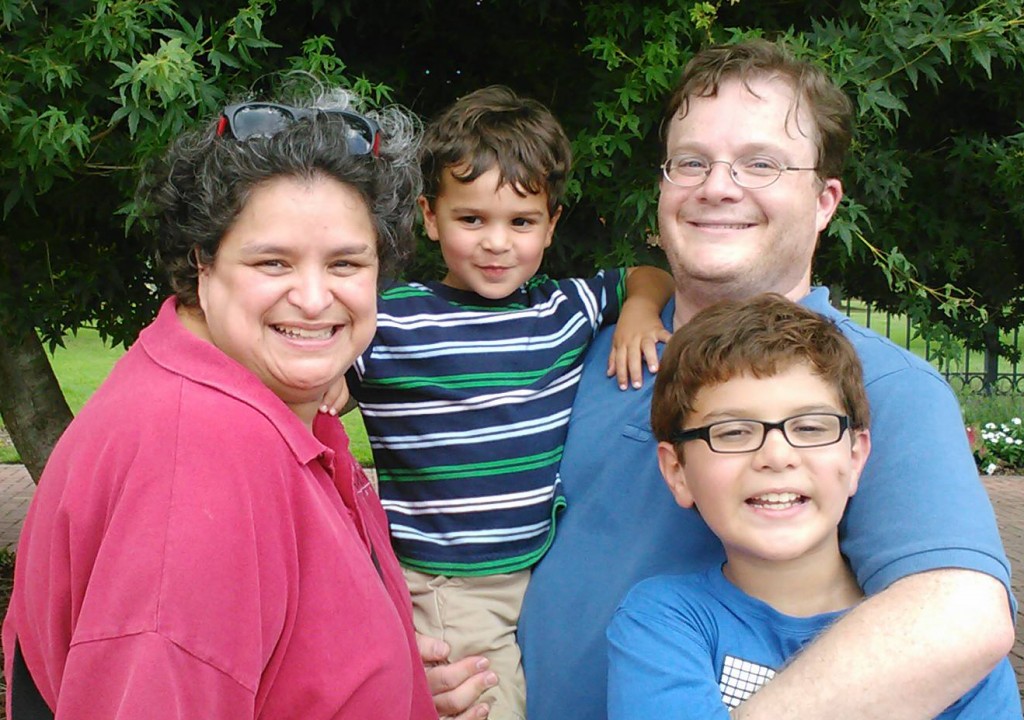 1. What is the best thing about being a dad?
Reunions. It's so wonderful to be woken up with the enthusiasm that only children can bring. Picking up a child who is enthusiastic about seeing you is so rewarding and coming home from an out-of-town trip to hugs and exciting stories about what happened during your absence is an exciting time.
2. A dad is usually the first male role model in a person's life and fathers do have a significant impact on their sons' attitude towards women and girls. How has your father influenced the way you see and treat women and girls?
My dad always put our family's well-being first. Sometimes he worked as many as three jobs and went to school to ensure that we always had a roof over our heads and food on the table. My dad was always a faithful husband and has stayed married to my mother for 44 years, which says a lot. He shares some of the household chores with my mother, usually by doing laundry. My father always encouraged me to be a friend and protector to my two sisters and he has been a wonderful brother to my aunt and a good son to my grandmother. He always stepped in if my sisters or I spoke disrespectfully to our mother and reinforced that we should treat her with the utmost respect.
3. Communities and activists worldwide are starting to recognise that violence against women is not a "women's issue" but a human rights issue and that men play a role in stopping the violence. How do you think fathers and other male role models can help get young men and boys to take an interest in and step up to help prevent and stop violence against women?
We can help stop violence by speaking up and setting an example. So much of our society is permeated with attitudes that consciously and subconsciously relegate women to a status of second-class citizens. It's important to set an example of choosing gender inclusive pronouns when talking about participants in every profession; treating children's mothers with respect and demonstrating marriages as equal partnerships; speaking up about sexist comments, attitudes, and imagery that is perpetuated by society at large, both generally and specifically; and by talking about what your family's values are when it comes to respecting girls and women. It's important for fathers to participate in daily chores, field trips, baby care, cooking, school activities, etc. It's important to avoid saying that a father is "babysitting" when he is caring for his own children alone. Generally, it's important for fathers to SHOW children how to treat each other and themselves with respect.