Welcome to The Pixel Project's "30 For 30″ Father's Day Campaign 2015! In honour of Father's Day, we created this campaign:
To acknowledge the vital role Dads play in families, cultures and communities worldwide.
To showcase good men from different walks of life who are fabulous positive non-violent male role models.
Through this campaign, we will be publishing a short interview with a different Dad on each day of the month of June.
This campaign is also part of a programme of initiatives held throughout 2015 in support of the Celebrity Male Role Model Pixel Reveal campaign that is in benefit of the National Coalition Against Domestic Violence and The Pixel Project. Donate at just US$1 per pixel to reveal the mystery Celebrity Male Role Models and help raise US$1 million for the cause while raising awareness about the important role men and boys play in ending violence against women in their communities worldwide. Donations begin at just US$10 and you can donate via the Pixel Reveal website here or the Pixel Reveal Razoo donation page here.
Our twenty-fifth "30 For 30″ 2015 Dad is Bala Sasetu from Nigeria.
__________________________________________________________________________________________
The Dad Bio
My name is Bala Sasetu. I am a lawyer by training and a public servant by profession. I am a Christian. I am happily married and the union is blessed with two sweet daughters; Kayla, aged 3 years, 7 months, and Viela, aged 9 months.  I am a family focused person, a persona that drove right to the doors of Family Worship Centre, Abuja, where I worship and serve as a Home Cell (Care Group) leader.  My hobbies include but are not limited to travelling, watching TV, and listening to good music.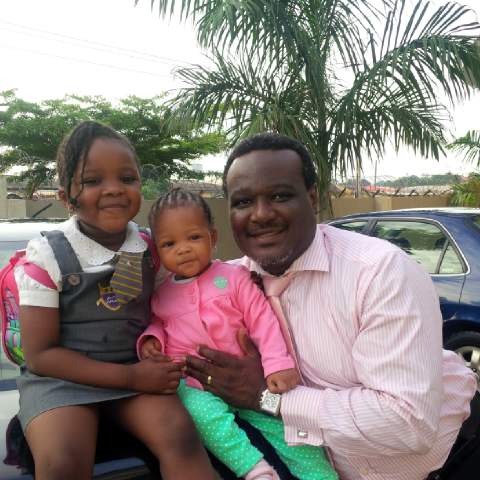 1. What is the best thing about being a dad?
The best thing about being a dad is the fact that I see not only a replica of myself but an opportunity to make a better me.  Nothing prepared me for the experience of being a dad so from the moment I set eyes on my child, the avalanche of emotions that came upon me from that moment onward were just awesome.  The responsibilities are challenging sometimes but I would not trade being a dad today for anything on earth. It also makes me understand how God feels about me as His child.
2. A dad is usually the first male role model in a person's life and fathers do have a significant impact on their sons' attitude towards women and girls. How has your father influenced the way you see and treat women and girls?
My father, like every other person, was not perfect when I was growing up but he was a man, indeed, he still is.  He adored our mother and tried to express it the best he could.  He knew how to handle affairs in his home and how to take up the challenges of fatherhood whilst not interfering in my mother's need to be a mother.
He was not bossy and a terror around the house, and understood the place of dialogue. My father only needed to mention something once and it stuck.  Such is his influence on me.
3. Communities and activists worldwide are starting to recognise that violence against women is not a "women's issue" but a human rights issue and that men play a role in stopping the violence. How do you think fathers and other male role models can help get young men and boys to take an interest in and step up to help prevent and stop violence against women?
I believe that charity as they say begins at home. The way fathers treat mothers at home will go a long way in determining the premium boys will place on women in their lives. If they grow up seeing their mothers treated like property, they will eventually see women as objects for ownership.  If their mothers were abused, their wives more often than not would be abused, too.
I agree that there could be cases of reverse reaction where children who saw their mothers suffering violence developed compassion towards women and treated them with respect, but such cases are extremely rare.
Fathers owe it to society to treat their wives with respect so that their children do not carry on the trend of violence. Fatherhood is not just being a father, but also teaching boys to be gentlemen and responsible fathers.