Welcome to The Pixel Project's "30 For 30″ Father's Day Campaign 2013! In honour of Father's Day, we created this campaign:
To acknowledge the vital role Dads play in families, cultures and communities worldwide.
To showcase good men from different walks of life who are fabulous positive non-violent male role models.
Through this campaign, we will be publishing a short interview with a different Dad on each day of the month of June.
This campaign is also part of a programme of initiatives held throughout 2014 in support of the Celebrity Male Role Model Pixel Reveal campaign that is in benefit of the National Coalition Against Domestic Violence and The Pixel Project. Donate at just US$1 per pixel to reveal the mystery Celebrity Male Role Models and help raise US$1 million for the cause while raising awareness about the important role men and boys play in ending violence against women in their communities worldwide. Donations begin at just US$10 and you can donate via the Pixel Reveal website here or the Pixel Reveal Razoo donation page here.
Our twenty second "30 For 30″ 2014 Dad is Paulvit Nijaranond from the USA.
__________________________________________________________________________________________
The Dad Bio
Paulvit Nijaranond was born in the Bronx, New York, an only child of two loving parents who had migrated from Thailand. He graduated with a B.A. in Economics and worked jobs in various industries until he found his place within a passion driven role at a luxury automotive brand. This success was made possible through his wife's support and his newly inspired vision as a father of his 7 month old daughter. Paulvit plans to make the most of his life and provide inspiration and support as a positive role model with his new family.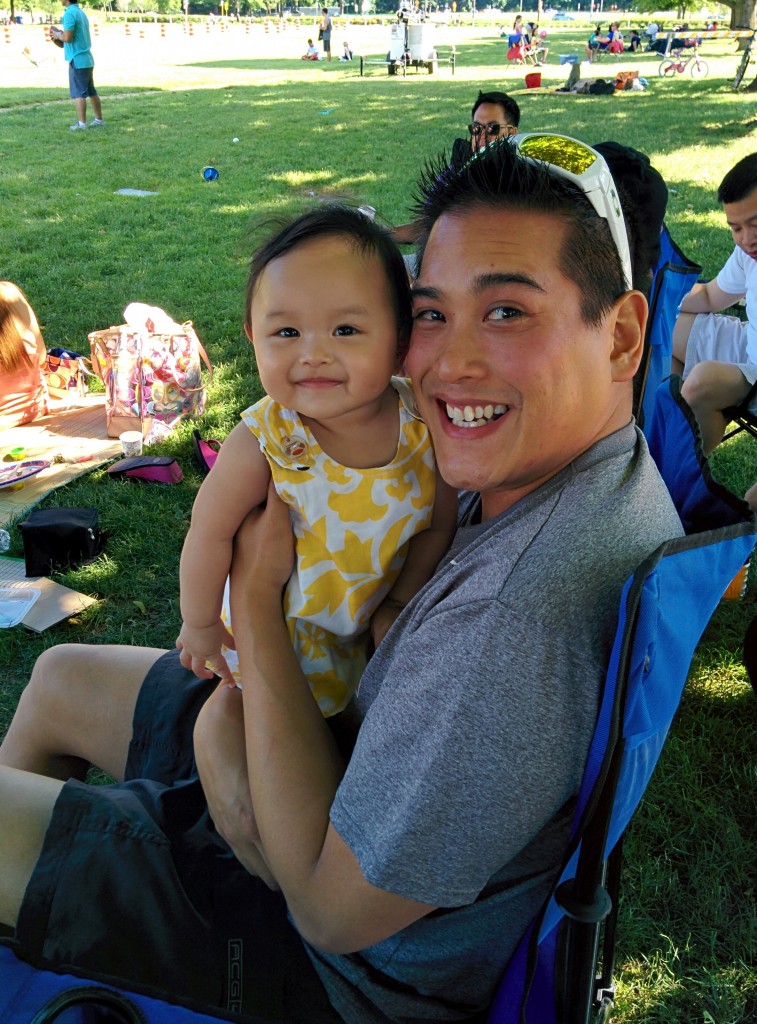 1. What is the best thing about being a dad?
Being a dad has given me the opportunity to make the most of myself in order to provide financial and parental support to my family. Everything I do now will reflect how my child perceives me and I will teach her to believe that she is strong and capable of anything. It's also an unexplainable feeling to come home and have someone jump and scream for joy when they see you!
2. A dad is usually the first male role model in a person's life and fathers do have a significant impact on their sons' attitude towards women and girls. How has your father influenced the way you see and treat women and girls?
My father was a Thai Buddhist monk for 15 years; this is what gave him the schooling to leave behind a rural and poverty life before coming to the United States for new opportunities. He is righteous and has compassion and patience. While growing up, my dad taught me to be good to my mother, as she is the only mother I would have. My father-in-law, who no longer is with us, was one of the kindest and generous men ever. Both of my dad's personalities gave me the direction to follow suit and treat all people with the respect, especially with women and girls.
3. Communities and activists worldwide are starting to recognise that violence against women is not a "women's issue" but a human rights issue and that men play a role in stopping the violence. How do you think fathers and other male role models can help get young men and boys to take an interest in and step up to help prevent and stop violence against women?
Awareness, communication, and leading by example are the most important ways fathers and other male role models can help young men and boys take interest. A father can raise their child to respect women, treat them the same as everyone else, and step in and take action in a confrontation, if the situation allows. Men and women, boys and girls, are the same and we need to start/continue teaching our children correctly to stop the violence against women.