Welcome to The Pixel Project's "30 For 30″ Father's Day Campaign 2015! In honour of Father's Day, we created this campaign:
To acknowledge the vital role Dads play in families, cultures and communities worldwide.
To showcase good men from different walks of life who are fabulous positive non-violent male role models.
Through this campaign, we will be publishing a short interview with a different Dad on each day of the month of June.
This campaign is also part of a programme of initiatives held throughout 2014 in support of the Celebrity Male Role Model Pixel Reveal campaign that is in benefit of the National Coalition Against Domestic Violence and The Pixel Project. Donate at just US$1 per pixel to reveal the mystery Celebrity Male Role Models and help raise US$1 million for the cause while raising awareness about the important role men and boys play in ending violence against women in their communities worldwide. Donations begin at just US$10 and you can donate via the Pixel Reveal website here or the Pixel Reveal Razoo donation page here.
Our twelfth "30 For 30″ 2015 Dad is Mugisho Theophile Ndabuli from Rwanda and the Democratic Republic of Congo.
__________________________________________________________________________________________
The Dad Bio
I am Mugisho Ndabuli Théophile. I was born in DR Congo in 1969. Now I live in Rwanda.  My wife Bahati is also from DR Congo; we have three children – two daughters and a son. We had our first child in 2007. I teach English and courses related to peace, conflicts, and violence at University. I am also doing a PhD in Gender and Development. I am passionate about women and children's rights; in 2009 I cofounded COFAPRI (www.cofapri.org) to help rural women and children who are victims of rape and domestic violence in DR Congo. Our family often travels to DR Congo to visit family and for work.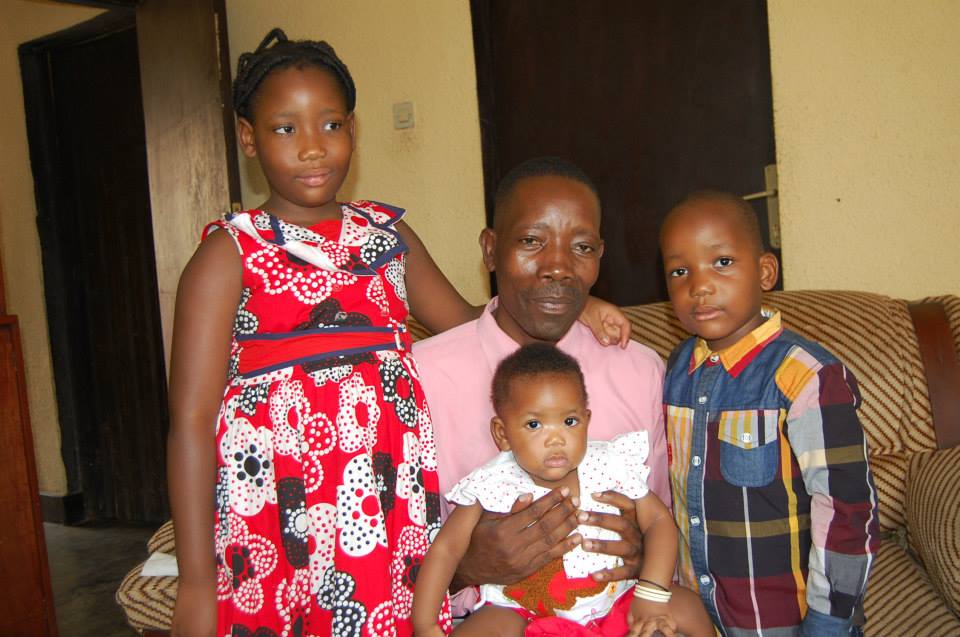 1. What is the best thing about being a dad?
Being a father gives me internal peace and more pride. As my wife and I spent more than six years childless, I can better understand and appreciate what being a dad really means. When my children call me Daddy, I feel happy. I also share my full pride at being a dad with the mother of my children and my full respect also goes to her.
Being a dad gives me more responsibilities as children cause me to consider my actions a lot more as I have observed that my children follow my lead in a positive way and take me as their role model in life.
Being a dad also affects my work with COFAPRI in a positive way as being a dad helps me better understand the needs of the children COFAPRI serves in my country –  rural children born of rape who not only lack fatherly moral and material support but also suffer discrimination because they never knew their own fathers.
2. A dad is usually the first male role model in a person's life and fathers do have a significant impact on their sons' attitude towards women and girls. How has your father influenced the way you see and treat women and girls?
My father has truly been a role model in my life in different ways. He was a community leader who committed his life to protecting women and children and he taught me how to respect and value women and children, at home and in the community. I became motivated about women, girls, and children because of the family environment in which I grew up. Dad, Mum, and Grandma have positively shaped and influenced my attitudes and beliefs toward women and children.
My father died in 2000, some months before I got married and I have carried into my heart and implemented his precious advice by cofounding COFAPRI. Inglenook used to tell us 'he who does not value his mother, his wife, or his sister dies like a dog.'  The world without women is meaningless, hopeless, and colourless; women create harmony between human beings and the ecosystem. Thanks to women, men become what they are; women feed and educate children who are the pillars of the future society. Women take care of the elders and the sick in communities; we could fail to do this correctly. Such beliefs shaped my valuing of women and children.
3. Communities and activists worldwide are starting to recognise that violence against women is not a "women's issue" but a human rights issue and that men play a role in stopping the violence. How do you think fathers and other male role models can help get young men and boys to take an interest in and step up to help prevent and stop violence against women?
The abuse of women is not a women's issue but everyone's concern. Women are human beings yet abuses against them are committed as women are considered as second class people – people without rights.
Young boys and men often behave the way of their fathers and teachers. Therefore fathers who are respectful to and supportive of women and girls will foster their sons' love toward women. Through home basic education, the boys can internalise respect for women, which can bear positive results in the future.
This informal home education can be supported by schools and the government can play a role by enacting and strictly enforcing laws that value women. This can open a way to preventing violence to women and hope for a future where women enjoy their rights.