Welcome to The Pixel Project's "30 For 30″ Father's Day Campaign 2015! In honour of Father's Day, we created this campaign:
To acknowledge the vital role Dads play in families, cultures and communities worldwide.
To showcase good men from different walks of life who are fabulous positive non-violent male role models.
Through this campaign, we will be publishing a short interview with a different Dad on each day of the month of June.
This campaign is also part of a programme of initiatives held throughout 2015 in support of the Celebrity Male Role Model Pixel Reveal campaign that is in benefit of the National Coalition Against Domestic Violence and The Pixel Project. Donate at just US$1 per pixel to reveal the mystery Celebrity Male Role Models and help raise US$1 million for the cause while raising awareness about the important role men and boys play in ending violence against women in their communities worldwide. Donations begin at just US$10 and you can donate via the Pixel Reveal website here or the Pixel Reveal Razoo donation page here.
Our seventeenth "30 For 30″ 2015 Dad is Luke K. from the USA.
__________________________________________________________________________________________
The Dad Bio
I'm a pilot in the military, I play guitar and I'm a dad to an adorable little 1-year-old girl. My daughter is spunky and hilarious and, as someone very accurately described her, willful. She makes me smile every single day and absolutely completes our family. I can't wait to see what kind of person she grows up to be. I'll love her no matter what, but if I had my choice, she'd be a kickass rock star.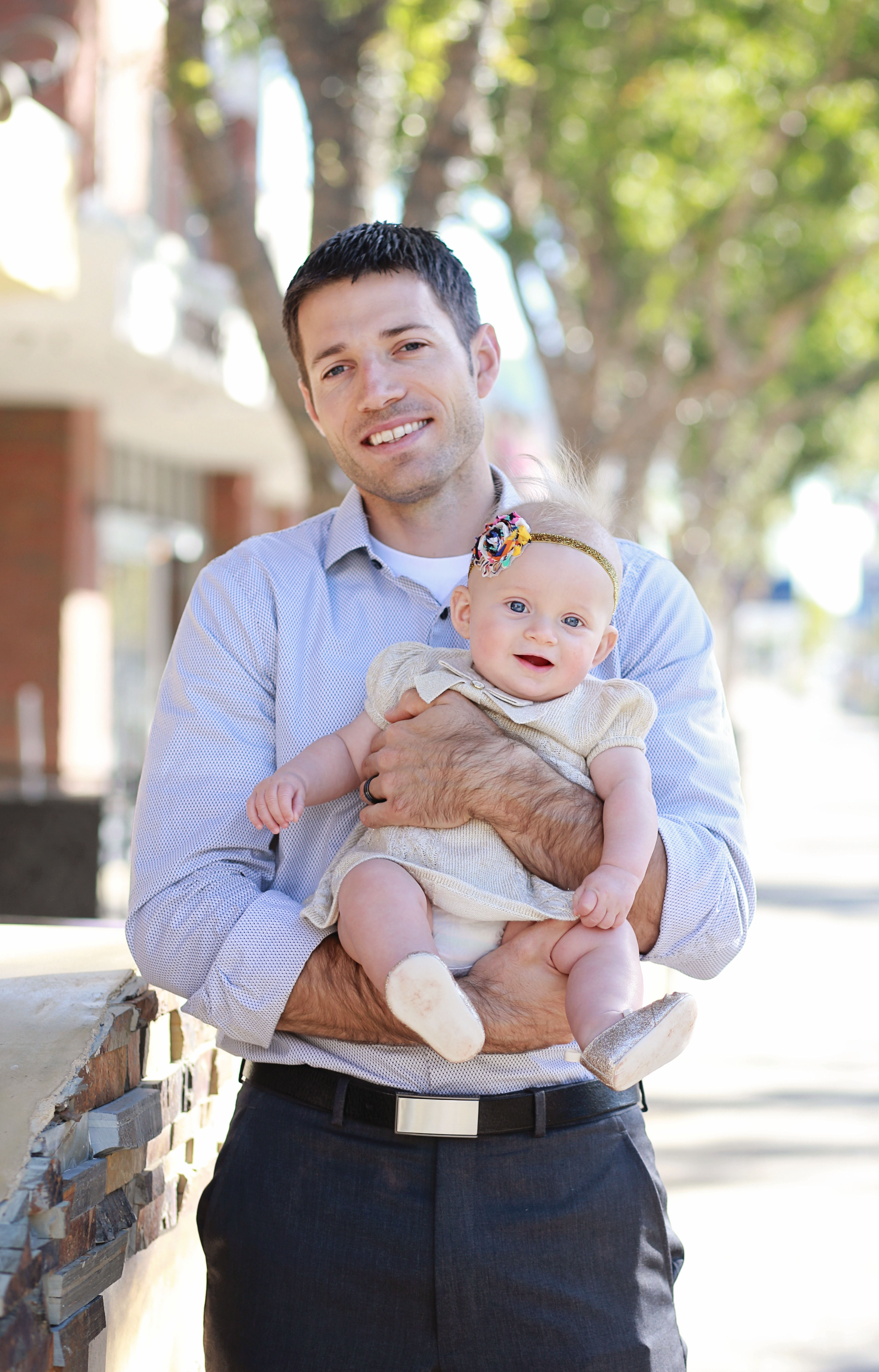 1. What is the best thing about being a dad?
I want to say the best thing is to come through the door at the end of the day and my daughter has this big smile on her face and she crawls at lightning speed toward me. You can't beat that. But on a deeper level, the best thing about being a dad is watching my daughter grow up before my eyes and realising you can have a positive impact on her life. I love helping her learn new things—little things like how to turn on a light switch, play catch with a ball, stick her tongue out, or identify where her nose is. The look of excitement when she gets it – being a part of that is amazing.
2. A dad is usually the first male role model in a person's life and fathers do have a significant impact on their sons' attitude towards women and girls. How has your father influenced the way you see and treat women and girls?
My dad taught me that you treat others with respect. It was just automatic. I could see it in how he treated my mom and my sister—he was always very caring and loving, and he'd talk them up all the time.
He was in the military, and when he'd come home from a three- or six-month long deployment, he would say how proud he was of my mom, being able to take care of the household. He would always say how smart my sister was. Subconsciously, I know I picked up on that. You can build women up with words.
3. Communities and activists worldwide are starting to recognise that violence against women is not a "women's issue" but a human rights issue and that men play a role in stopping the violence. How do you think fathers and other male role models can help get young men and boys to take an interest in and step up to help prevent and stop violence against women?
If I have a son someday, I'll teach him that women are strong. This notion that you can say, "You throw like a girl" or doing something "like a girl" has a negative connotation—that's just incorrect. Those kinds of statements promote the idea that men are superior to women, and I don't support that.
It's also teaching boys to have courage when they're in very male-dominated situations when men tend to talk about women like objects, like sports teams or the military. It's teaching boys to have the courage to stand up and offer a different opinion, to change the direction of the conversation rather than just going along with what everyone is saying.