Welcome to The Pixel Project's "30 For 30″ Father's Day Campaign 2015! In honour of Father's Day, we created this campaign:
To acknowledge the vital role Dads play in families, cultures and communities worldwide.
To showcase good men from different walks of life who are fabulous positive non-violent male role models.
Through this campaign, we will be publishing a short interview with a different Dad on each day of the month of June.
This campaign is also part of a programme of initiatives held throughout 2015 in support of the Celebrity Male Role Model Pixel Reveal campaign that is in benefit of the National Coalition Against Domestic Violence and The Pixel Project. Donate at just US$1 per pixel to reveal the mystery Celebrity Male Role Models and help raise US$1 million for the cause while raising awareness about the important role men and boys play in ending violence against women in their communities worldwide. Donations begin at just US$10 and you can donate via the Pixel Reveal website here or the Pixel Reveal Razoo donation page here.
Our twentieth "30 For 30″ 2015 Dad is Samuel Leadismo from Kenya.
__________________________________________________________________________________________
The Dad Bio
My name is Samuel Siriria Leadismo. I'm the Founder and Director of Pastoralist Child Foundation whose mission is to eradicate Female Genital Mutilation (FGM) and forced childhood marriages of girls in the Samburu and Maasai communities in Kenya. We sponsor girls who attend private secondary boarding schools. I'm originally from Samburu County, Kenya, from the Samburu tribe, Black Cattle clan. The Samburu tribe is nomadic – moving from one place to another with their livestock searching for greener pastures. I'm a role model, advisor, and counsellor in our villages, always encouraging my fellow youth to continue their education. I'm working against early marriages and Female Genital Mutilation (FGM) by actively promoting childhood and adult education amongst my community members.  I attained a higher Diploma in Hospitality and Tourism Management from Zetech University. I'm a proud dad of a 4 year old daughter.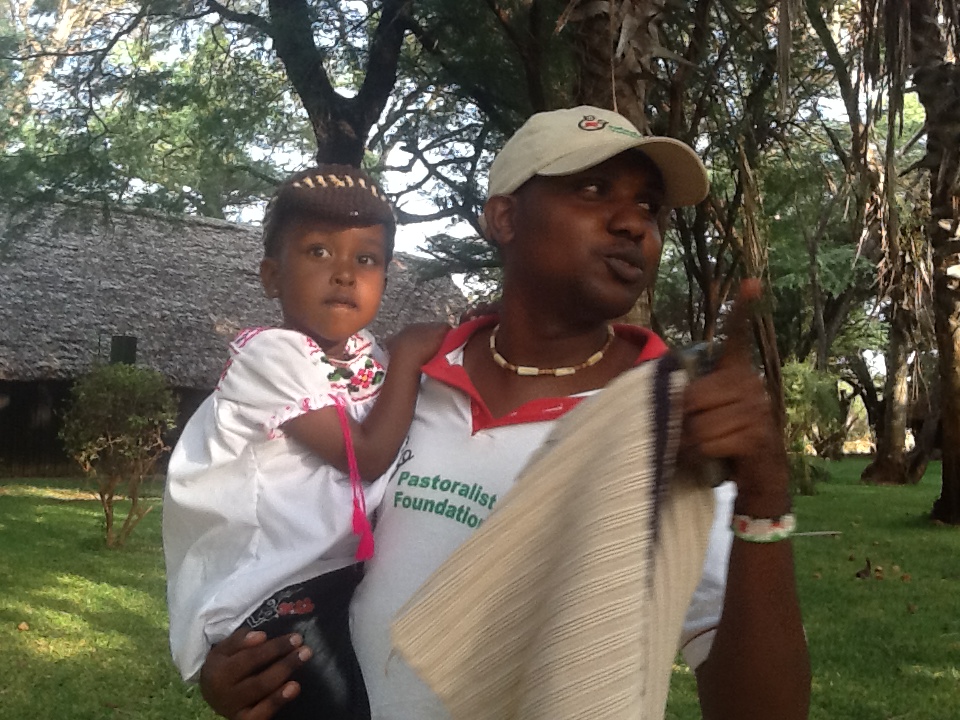 1. What is the best thing about being a dad?
One of the things I love most about being a dad is watching my child put to use the lessons that I've taught her. I feel so proud of my daughter when she does the little things without anyone telling her to do them – things such as helping clean up the house at the age of four, or just saying 'please' and 'thank you.' When that happens, and I don't have to tell her, I know she has learned that lesson for life.  She can make me cry when I have to go out of town for work.
My favourite thing about being a father is that I can work hard every day to leave this world a better place for my daughter and the community I work with.  Being a dad softens my heart, and makes me instantly more accountable and responsible to the world around me.
2. A dad is usually the first male role model in a person's life and fathers do have a significant impact on their sons' attitude towards women and girls. How has your father influenced the way you see and treat women and girls?
My dad is a polygamist and lived far from us, so it was my mother who influenced my life the most through kindness, compassion, integrity, calmness even in the face of extreme challenges, passion for life, humour, and unconditional love. During my mother's last year, she asked me to guide and educate my younger sisters, and to fight for the right of all girls to enjoy the opportunities she didn't have. I am proud of myself, our community, and the work we do through The Pastoralist Child Foundation.
Two other women have also influenced my life. One is Blake Valin, an American woman living in West Palm Beach Gardens, Florida. I met her when she visited Kenya in 2005. She taught me how to be patient, understanding, and to fight for what I believe in. She paid all my high school and university fees, and helped my family. She taught me to never give up!
The other is Sayydah Garrett, the Founder and President of Pastoralist Child Foundation, who gave me the confidence to found our Pastoralist Child Foundation. We sponsor girls in high school, and offer community workshops to end FGM and child marriages.  We teach about teen pregnancy, HIV/AIDS, self-awareness, self-esteem, sexual and reproductive health, gender-based violence, sanitation, and the importance of formal education here in Kenya.
3. Communities and activists worldwide are starting to recognise that violence against women is not a "women's issue" but a human rights issue and that men play a role in stopping the violence. How do you think fathers and other male role models can help get young men and boys to take an interest in and step up to help prevent and stop violence against women?
I believe men and boys can play a role in preventing and stopping violence against women. Men can join women and girls in challenging violence and oppression globally and help create a place where people of different backgrounds, lifestyles, and communities can learn and feel safe by listening and caring for each other.
Some of the ways in which they can do this include connecting with other men and boys about their experiences with violence and with privilege and coming together with an agreement of honesty and respect by putting aside fears, and creating a culture where we practice understanding rather than winning, communication rather than fighting, sharing rather than defending.
I really love working towards ending violence against women because women changed my life by educating me, raising me and believing in me.  I hope many men can take this message to another level so that they can see the necessity of ending violence against women. I'm doing this through my charity work and am seeing progress as men in my community are moved by my ideas about ending violence.